MAGICAL ALHAMBRA, GRANADA
I'll be honest. 'Memories of Alhambra' brought me here. You know that famous KDrama with a fantastic twisty-turn-y storyline and the absolutely gorgeous backdrop of Granada in Spain. Yup, that's the one. Of course, you could be a bibliophile who wants to be here thanks to Washington Irving's 'Tales of Alhambra'. And that's good enough too.
But now that I have researched a place so hauntingly beautiful, I just can't get her off my mind. And hence I've pencilled in the bullet point that reads 'visit Alhambra Palace', on my newly updated bucket list. Join me in admiring this beauty; you probably won't be able to resist anyway as you read further.
Top 6 Reasons to Visit Alhambra
Alhambra is truly a spectacular palace-cum-fortress with the stunning natural backdrop of the majestic Sierra Nevada peaks. No matter where you view her from, the palace offers impressive views of Andalusia's beautiful countryside. The views here are so jaw-droppingly gorgeous, that Alhambra has consistently maintained the honour of being the most-visited monument in Spain.
Picture Courtesy:YOTRIPP via Canva Pro
Picture Courtesy:YOTRIPP via Canva Pro
The beauty of Alhambra is clearly visible on the outside, with its majestic buildings. But even on the inside, the palace bowls you over with its detailed architecture, intricate carvings and designs. Mesmerizing passageways take you through the palace monuments and the detailing of the work on each, leaves behind a profound impact. The Palace of Lions and the outdoor Fountain of Lions are especially loved by visitors.
Picture Courtesy:YOTRIPP via Canva Pro
Then there are the exquisite Alhambra gardens or Generalife Gardens as they are called. These are impressive, well maintained green spaces that date back over 750 years. The gardens are so good, that they were declared a UNESCO world heritage site along with the palace in 1984; nearly 26 acres of land in total!
Picture Courtesy:YOTRIPP via Canva Pro
Once you have strolled through the palace and its grounds, you can top the experience by visiting the fascinating Alhambra museum that displays relics and artefacts from the Nasrid era. Rare Mujedar artworks star in its seven massive exhibition halls and give you great insight into the region's history and culture.
Picture Courtesy:YOTRIPP via Canva Pro
If you time your visit in July, Alhambra gardens play host to several outdoor concerts. In fact, the Granada International Festival of Music and Dance that's held here in July is the perfect opportunity to experience local and international music performances at this historic location.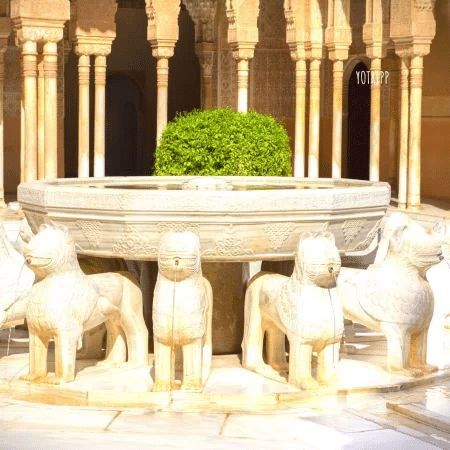 Picture Courtesy:YOTRIPP via Canva Pro
You will need to purchase the separate night visit tickets to visit Alhambra during the night but it is totally worth it for a phenomenal, out-of-this-world experience. When darkness falls and the lights come on, Alhambra is a vision unlike another. The beautiful palaces and gardens take on an ethereal Disney palace-like look and feel that truly casts a spell.
Pin this to your Seoul Pinterest board so you can find this post easily again.
Ancient History of Alhambra
If you are not from Spain or if you haven't ever toured Spain, you probably don't know much about the history of Alhambra Palace. Which is a shame, because it is so spectacularly interesting. Alhambra is located at a strategic vantage point on Sabika Hill and is surrounded by defensive walls, making her an almost impregnable fortress of her times. Spread over almost 26 acres of land, Alhambra also gives you quite the workout if you intend to see all 30 of her towers and the multitude of smaller monuments within her walls.
The Moorish palace-cum-fortress of Alhambra is the standing testimony of Islamic rule in Spain. She was built by the last remaining Nasrid Emirs in 889 (yeah, not 1889, but the EIGHTH century!), which history tells us to be the Islamic Golden Age in Europe. Today, along with her two sister sites of Albaicín and Generalife Garden, Alhambra is a designated UNESCO World Heritage Site.
One of the finest signs of Islamic opulence in Europe, the palace that stands today has seen several changes, extensions and removals since her original construction. Post-1492, after the end of the Moorish rule, major parts of Alhambra were destroyed and then later rebuilt in the Renaissance style by Charles V. So vast is the difference in the architectural styles of the two that you can notice sharp, visible contrasts between the actual Nasrid Palace and the Palace of Charles V, where the latter resided.

Thereafter, the fortress has withstood destruction and damage by French forces, lived through an earthquake and survived several natural and manmade calamities. From 1828 till as recent as the 21st century, restoration, renovation and conservation continue at this palace and its surrounding grounds.
Alhambra, a name derived from the Arabic words qal'at al-hamra, literally translates to 'red fort'. And the grand palace-fort, with her fine decorative artwork, landscaped gardens and enchanting water fountains, still retains all her red-stone glory despite all the restorations.

Thanks to her history, spanning centuries, not just decades, Alhambra is one of Spain's most prolific tourist destinations today. She can draw well over 6000 people on any given day!
Picture Courtesy:YOTRIPP via Canva Pro
Picture Courtesy:YOTRIPP via Canva Pro
Picture Courtesy:YOTRIPP via Canva Pro
Within The Walls of Alhambra
Before all the demolitions and restorations, Alhambra had 3 main sections within her walls. Apart from the palaces that housed the ruling Sultan and his kin, there was a Medina quarter and an Alcazaba base. The former was meant to be a residential area for court officials who worked at the palace and the latter was essentially a military base with residential complexes for the palace guards and their kin.

The palaces themselves were also divided into distinct areas. The Mexuar area was meant for state affairs and justice administration and hence was open to the public. The Comares Palace was the private and official residence of the Sultan and had the opulence that suited its purpose.

The Palace of Lions was the most private of areas as it was meant for the sole use of the royals. It had several rooms for the king and his mistresses and a beautiful outdoor area known as the Court of Myrtles. The palace opened up to what was known as the Courtyard of Lions, which held an enormous water fountain with twelve lion figurines.

Most of these still stand today for visitors to see. In addition to these, there are several small and large monuments and structures that are worth visiting here. The historical hall of Abencerrajes, which is said to be where a noble family was once gruesomely murdered, is notable for a ceiling that holds naturally formed stalactites. The Salon de Comares or Ambassadors Hall, Muqarnas Chamber, the Justice Gate, the great Hall of Boat, Puerta del Vino (Wine Gate) and several baths add more history and drama to the captivating stories of Alhambra.

Certain modern structures have also been added to Alhambra over the decades that passed. The most prominent of all being the statue of writer Washington Irving. It was erected in 2009, on the prolific writer's 150th death anniversary, in the gardens outside the main palace.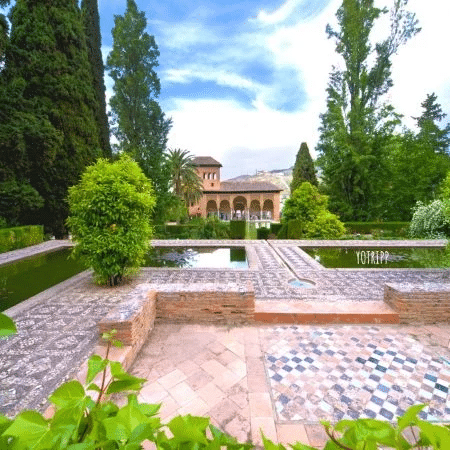 Picture Courtesy:YOTRIPP via Canva Pro
Picture Courtesy:YOTRIPP via Canva Pro
Picture Courtesy:YOTRIPP via Canva Pro
The Exotic Generalife Garden
Walk over to the Cerro del Sol (Hill of the Sun) once you are done exploring the inner palaces. This is where you'll find the Jannat al-arifa gardens (or Generalife as they are now called), some of the best, most well-preserved sections of the Nasrid estate. These well cultivated and well-maintained gardens are abundant in their greenery and stunning in their built-up architecture. Water fountains, marble canals, elaborate courtyards and pools add to the beauty of the gardens, which are made up of both ornamental as well as functional vegetation.

The contrast of the shaded patios with the sun-kissed gardens and reflective water pools make for the one-of-a-kind experience. Islamic creativity is still visible all throughout the gardens, especially when you take a closer look at the intricately carved stucco pillars and walls. Within the Generalife is a theatre where international song and dance performances are held even today.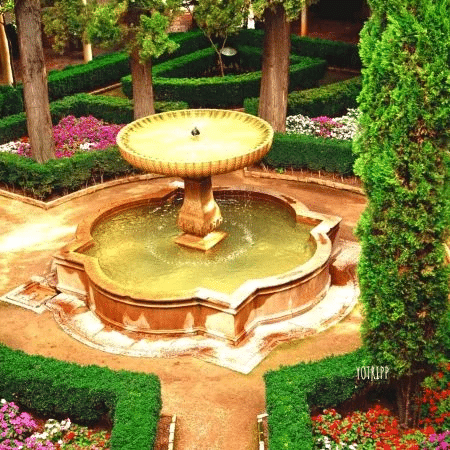 Picture Courtesy:YOTRIPP via Canva Pro
Guided Tours of Alhambra & Generalife
You can book guided tours of Alhambra and Generalife. As there are restrictions regarding the number of visitors that Alhambra accepts per day, you should ideally book your tickets at least a month in advance to avoid disappointment. If you take a tour, you get a knowledgeable guide to take you through the history and architectural aspects of Alhambra. Besides, you also get to skip the queues, which is a big bonus considering as many as 6000 people are visiting on any given day!
Picture Courtesy:YOTRIPP via Canva Pro
Other Information On Alhambra Visits
It will take you at least 3 hours to do a tour of Alhambra and Generalife gardens. Since tickets are allocated according to time slots (that are strictly followed), keep in mind the time you will require for a leisurely tour before you purchase your tickets. Alhambra is closed each year from the 25th of December to the 1st of January. On all other days, there are separate day, evening and night timings that you can get here.

Whether you are a solo traveller or you are holidaying with your family, Granada is an excellent vacation destination. Not only does the city give you the best of Spain but it allows you to enjoy a trip to Alhambra!
Here's a little video that gives more insight into Alhambra's interesting design and architecture by Eric Azares. If you like the video, do follow his travel videos here.
Picture Courtesy:YOTRIPP via Canva Pro