KOREAN STREET FOOD TOUR OF SEOUL
The world is full of delicious gastronomical treats and South Korean cuisine is a hidden treasure that one must try. The best place to do that is obviously none other than the capital city Seoul.

Seoul is a strategically located, culturally rich city which dates back many centuries. Famous for 'Soju' (an alcoholic drink) and the birthplace of K-Pop, it has now become a major tourist destination in South East Asia.

Also check out this comprehensive guide on Korea's street food at Gwangjang Market in Seoul.
What To Eat
If you are in Seoul and want to take up a food tour to discover all the snacks and desserts that are on offer, here is a comprehensive list of what to eat and where to eat it!
Gimbap (Korean Sushi)
Gimbap, also spelt Kimbap, is one of the most popular street foods in Korea. Gimbap is basically a sheet of rolled dried seaweed filled with rice, vegetables or egg. The filling can also include cheese, tuna or squid. You will notice sesame seeds sprinkled on the Gimbap. The entire roll is often cut into bite-sized slices to make it easier to consume. Although it is similar to a Sushi roll, the rice inside a Gimbap has sesame oil in it as opposed to vinegar in the usual Sushi rice. But the most important difference is that the filling inside regular Sushi is raw while the ingredients inside a Gimbap are cooked.
Where to eat:
Gwangjang Market (Oldest market in Seoul)
Mandu (Dumplings)
These are Korean dumplings. The fillings include meat and/or vegetables. The dumplings are pan-fried until they become crispy on the outside, yet the filling remains soft and juicy. You can also get the steamed variety. The common stuffing includes minced pork, sweet onion and kimchi (cabbage or radish with salt and chilli powder). These are served with soy sauce and vinegar.
Where to eat:
Dongdaemun Night Market (Popular for apparel shopping as well)
Tteokbokki (Rice Cakes)
Apart from Gimbap, this is the most widely consumed street food in Korea. Tteokbokki are spicy rice cakes cooked in a red sauce or Gochujang- a savoury, sweet and spicy red chilli paste which is one of the main sauces used in Korean cuisine.
Where to eat:
Sindang-dong Tteokbokki Town (Birthplace of 'gochujang tteokbokki)
Odeng / Oeumuk
Fish cakes, known as Odeng in Japanese, although the local word is Eomuk, are a combination of fish paste with starch, flour, rice wine and various spices served on a skewer. Odeng is often accompanied by a warm broth known as Tang. Some say that Odeng with Gochujang is a good cure for hangovers!
Where to eat:
KFC or Chimaek
This is not Kentucky Fried Chicken but the more popular and tasty Korean Fried Chicken. Also called Chimaek, the Korean style of fried chicken is hot; really hot. It is spicy and crispy just like fried chicken should be. You can also get a sweet and tangy honey mustard sauce along with it, which makes it a little more palatable. But be careful of the heat if you are not used to eating spicy food.
Where to eat:
Two-Two Chicken, outside Gongdeok Station
Pajeon (Korean Pancakes)
If you love traditional pancakes, try the Korean street version that is delicious and filling. The pancakes have a variety of stuffing and are indeed a hearty meal. Generally, they are filled with leek or onion but can also have a sea-food filling. These are fried and absolutely scrumptious with soy sauce. For vegans or those looking for gluten-free options, Korean stalls also sell pancakes made out of Mung Bean batter.
Where to eat:
Dongmyo Flea Market
Kimchi Ppang, Gyeran Ppang
Picture Courtesy:Wikimedia Commons: Travel Oriented
Kimchi pork steamed buns are a rage in the Korean food markets. Gyeran Ppang is a similar sweet and savoury delicacy that literally means 'Egg Bread'. Ppang refers to 'bread' in Korean and you will come across various Bread dishes (Buns) filled with vegetables, meat and eggs.
Where to eat:
Myeongdong Street Food Alley (post 5pm every day)
Tornado Potato and Hot Dog
Potato is one of the most universally popular ingredients for street food and snacks. The Korean speciality- Tornado potato, is a single potato that is cut into a swirl and then fried. You can have different kinds of spices and seasoning over it. Barbecue, cheese and salted are the common flavours available. It looks pretty and tempting.

The Korean version of a hot dog has the tornado potato wrapped around it, served on a skewer. Most Korean street food is served on skewers, making it easier to handle and eat.
Where to eat:
Tongin Market, near Gyeongbokgung Palace
Tokkebi Hot Dog
Another popular variety of hot dog is named after an evil creature from Korean folklore. The Tokkebi is actually a hot dog that has fries over it and then the whole thing is fried together- a dream come true for people who love fries and hot dogs.
Where to eat:
Tongin Market, near Gyeongbokgung Palace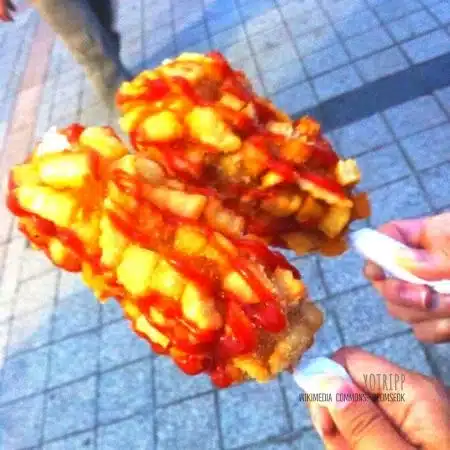 Lobster, Squid and Octopus
This one is not for the faint-hearted or for vegetarians. But the highlight of Korean street food is sea creatures, so you will see a lot of live octopus, squid and lobster counters. Octopus is usually served with a sesame chilli oil over it. It is fresh and crunchy. No food tour will be complete without a visit to the carts that sell dried or fried squid or smoked octopus.

Grilled cheese lobster is another delicacy served on a skewer and is famous for being one of the most expensive dishes as well.
Where to eat:
Seoul Bamdokkaebi Night Market along the Han River
Korean BBQ / Ssam
Korean barbecue is a slightly elaborate affair. You have to wrap meat and 'banchan' (side ingredients) in kale or lettuce leaf. Make sure you wrap and pack this properly because you have to pop the whole thing into your mouth and have it in one bite.
Where to eat:
Jeong Daepo in Mapo area, near Gongdeok station
Twigim (Tempura)
The Korean version of the Japanese tempura, Twigim refers to deep-fried vegetables. Fried to perfection, Twigim is a crunchy, greasy treat; perfect for fried snack lovers. Not just vegetables, but squid and egg Twigim are also popular.
Where to eat:
Insa-dong, Seoul
After a heavy meal, here are some Korean beverages to wash it all down and some Korean desserts to satisfy your sweet cravings!
Hotteok (Doughnuts)
Donuts (Hotteok) are widely available on Korean streets in both sweet and savoury varieties. Hotteok look like stuffed pancakes but are actually doughnuts. While the savoury types contain meat, sweet potato or onion, the sweet ones are filled with red bean paste, cream, honey, ground peanuts or a mixture of brown sugar and cinnamon.
Where to eat:
Namdaemun Market (Largest and oldest food market with about 10,000 stalls)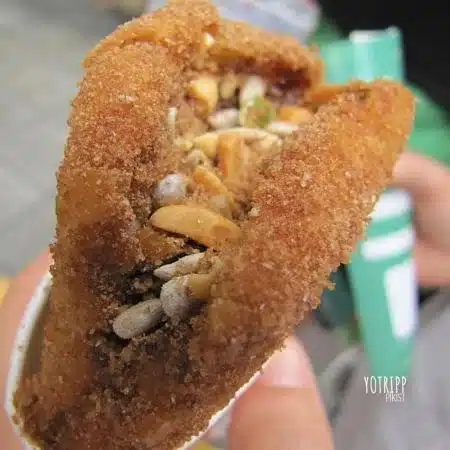 Bungeoppang (Korean Waffles)
This is like a Korean version of waffles. Made out of red bean batter, these are fish-shaped sweet cakes with a crispy exterior like that of waffles. The names of these cakes/waffles will depend on the type of mould used.
Soft Serve
Ice cream is an extremely popular dessert in Korea and one can find an enormous variety of it, not just in terms of flavours but also in presentation and serving size.

Their soft serves go really high (32cms long twist) with a large quantity of ice cream. Recently, you also get the cane ice cream, which is served in a cane-shaped rice cracker and massive sundaes.
Where to eat:
Myeongdong Market
Korean Shaved Ice Dessert (Patbingsu)
Patbingsu or shaved ice is a popular summer-time snack cum dessert in South Korea. Patbingsu is typically made with sweetened azuki beans or what is popularly known as red bean paste, and fruits, condensed milk and shaved ice.
Where to eat:
Cheongdam-dong, Gangnam-gu (at various street shops or at Meal Top)
Banana Milk
Korea's love for fruit flavoured milk is evident everywhere. One of the most popular options is Banana milk (more than 800,000 bottles sold each day). This is available in all stores.
Soju
Soju is a colourless, distilled, alcoholic beverage traditionally made from rice, wheat or barley, but recently other ingredients like tapioca or potatoes are also used. Similar to vodka, but lower in alcohol content, this drink is largely consumed in Korea, China and Japan.
Just like for wine, Korean cuisine has certain foods that are paired with Soju but it is customarily consumed as shots. A study says that the average Korean adult annually consumes about 87 bottles of Soju.
Korea has a very distinct drinking culture and there are several rules regarding how Koreans take their soju. For example, you can never pour your own soju. As it is part of a communal drinking culture, soju is always poured using both hands and by the youngest in the group (either in terms of age or in terms of rank). Also, according to etiquette, while you can sip your soju, it is traditionally meant to be gulped down like a shot.

From appetizers and finger food to the main course, desserts and drinks, Seoul has it all covered. Hit the night markets in Seoul and eat your fill!